Media Insiders Series: Covering Breaking News | October 6, 2022 – 3PM HKT
Watch the full Panel Discussion ⬇️
What does it take to report and craft narratives for rapidly evolving news? How do reporters maintain objectivity when covering topics where emotions run high? And what are the takeaways from dealing with interviewees experiencing trauma?
In the final installment of #MediaInsiders, the winners and finalists of the SOPA 2022 Editorial Awards on Breaking News took us inside the Zhenzhou floods that shook a nation; the ethical dilemma that medical staff faced on the front lines during the peak of the Covid pandemic in Taiwan; the desperate scene to flee Afghanistan as the Taliban took over; and, the last night before the shuttering of the iconic newspaper Apple Daily in Hong Kong.
Media Insiders: Covering Breaking News was moderated by Bloomberg Asia's Investing and Real Estate Team Leader, Lulu Yilun Chen.
Lulu is a multi-time SOPA award co-winner; one of the esteemed judges of the SOPA 2022 Awards; and, the author of "Influence Empire: The Story of Tencent and China's Tech Ambition".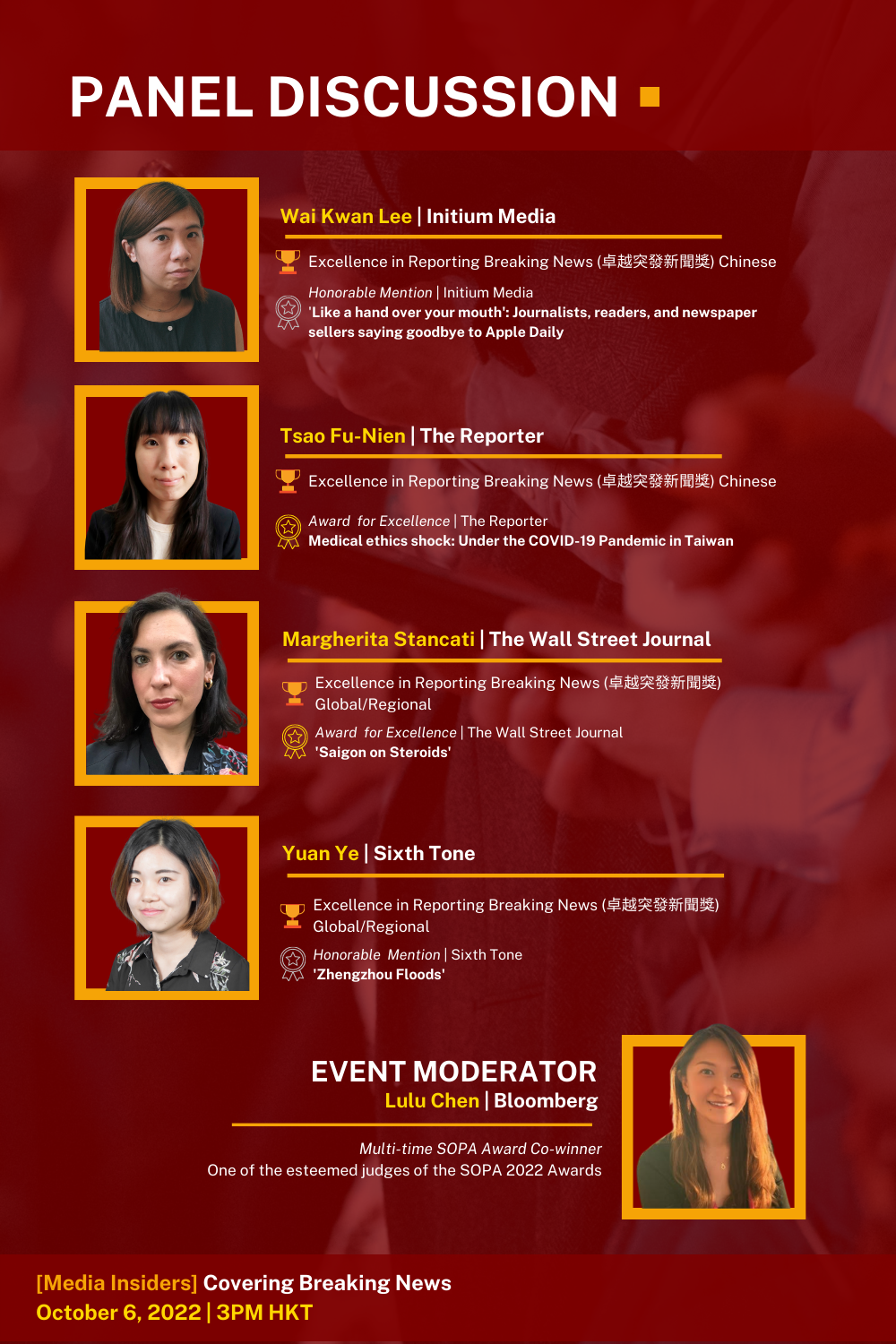 Panelists include Wai Kwan Lee from Initium Media, Tsao Fu-Nien from The Reporter, Margherita Stancati from The Wall Street Journal, and Yuan Ye from Sixth Tone.
GET TO KNOW THE PANELISTS
WAI KWAN LEE, Initium Media
Lee is one of the decorated journalists of The Society of Publishers in Asia, awarded as Mind HK Media Awards 2019, Excellent Journalism Award 2021, and the prize winner of SOPA Awards for Editorial Excellence 2022. Lee is a freelance journalist who wrote for Ming Pao Weekly, Initium Media, Hong Kong In-Media, and other documentaries. Completed her master's degree in Anthropology at The Chinese University of Hong Kong, Lee is active in literary writing and teaching creative-writing programs; and has received awards from Awards for Creative Writing in Chinese, the Youth Literary Awards.
TSAO FU-NIEN, The Reporter
Fu-Nien is the Senior Journalist for The Reporter and SOPA 2022's Finalist for Carlos Tejada Award for Excellence in Investigative Reporting. Fu-Nien covers social welfare, mental health issues, and gender issues.
MARGHERITA STANCATI, The Wall Street Journal
Stancati is a foreign correspondent for The Wall Street Journal. She lived in Afghanistan from 2013-2015 and traveled there frequently over the past year. Her previous postings include India and Saudi Arabia. Stancati is Italian and currently lives in Rome with her husband and two young sons.
YUAN YE, Sixth Tone
Yuan is a Feature Reporter at Sixth Tone and SOPA 2022's Finalist for the Award for Young Journalists. Yuan focuses on writing to raise awareness of climate change and the intersection of policy, politics, and society.
HERE ARE THE WINNING AND FINALIST ARTICLES FROM THE SOPA 2022 AWARDS
🏆 Excellence in Reporting Breaking News (卓越突發新聞獎) Chinese
🏅 Honorable Mention | Initium Media: 'Like a hand over your mouth': Journalists, readers, and newspaper sellers saying goodbye to Apple Daily
🏆 Excellence in Reporting Breaking News (卓越突發新聞獎) Chinese
🏅 Award for Excellence | The Reporter: Medical ethics shock: Under the COVID-19 Pandemic in Taiwan
🏆 Excellence in Reporting Breaking News (卓越突發新聞獎) Global/Regional
🏅 Award for Excellence | The Wall Street Journal: 'Saigon on Steroids'
🏆 Excellence in Reporting Breaking News (卓越突發新聞獎) Global/Regional
🏅 Honorable Mention | Sixth Tone: Zhengzhou Floods
PANEL DISCUSSION TRANSCRIPT
LULU: Margherita, when you were reporting on the story about Afghanistan, what do you think was the biggest challenge when you were trying to cover such a fast-paced story?
MARGHERITA: The biggest challenge was that covering news was our second priority. Our first priority was making sure that our colleagues were safe. I was not in Kabul physically that time, my colleague (Yaroslav) was and so was our Afghan staff – our reporters and support staff, many of whom have been with us for years.
At that moment, on August 15, the country was collapsing to the Taliban. We really didn't know what was gonna happen next. We didn't know for how long we'd leave the country. Yaroslav, who was the main writer in the story, was in Kabul airport and there was a complete chaos in Kabul airport. It was not clear who was gonna be able to leave. The danger was not just the Taliban. At that time we didn't know how they would behave towards foreigners in the city but there's also, you know, mob rule of the city – the airport was completely overrun.
I would say the biggest challenge was reporting while having another priority which was to make sure everyone was safe; in Yaroslav's case, that he got out safely. He was stuck in the airport for most of the day. In our years in Afghanistan prior to that, we had a wide network of people we knew, then suddenly there was no one. We were basically on our own trying to report with very limited visibility of what was happening outside the airport – we were trying to figure out what was happening elsewhere while not being there ourselves. But having Yaroslav there, it gave us a unique window into how the events were unfolding at the center of the crisis which was Kabul airport at that time.
LULU: As you mentioned, your colleagues are on the frontline as you're stringing in material from a different bureau, what was it like working with other reporters on a breaking news story like this across bureau collaboration?
MARGHERITA: The first call I got that day was from Yaroslav, it was not about reporting purposes, he was having trouble reaching the ephesus asking, "Please help. Call the Italian embassy to help me get to the airport." After we got past that, although we are in different places, one thing Yaroslav, Dion, and I have in common is that all three of us had lived in Afghanistan and all three of us had worked together in Afghanistan as well. So, we knew each other well, we knew how to help each other, and also we had our own networks of people we could talk to and turn to in a situation of complete chaos like Afghanistan. At that time, I was actually on maternity leave so I was not in the best position to jump on a news story. I was just there working with phones trying to find out, as much as I could, through personal contacts – finding people who were trying to leave the country and just made it out and talking to them about their experiences and what they are going through.
It's very worrying because we were getting early indications that – although in Kabul it was a peaceful takeover, there was not a lot of violence – intimidations were beginning against Afghans who had links to foreigners, especially to foreign embassies or foreign governments. I was trying to get a piece of what was happening in a situation of complete chaos. It was difficult but at the same time we were able to rely on our networks, our knowledge of the country. We knew how others worked and we knew each other very well, that definitely helped a lot.
LULU: Moving on to Tsao Fu-Nien, your story about the COVID pandemic in Taiwan. Obviously, there were so many things that you could've covered out of this topic but you focused on medical ethics. I'm curious to know why you zoomed in on this issue specifically.
TSAO FU-NIEN: Actually before this news feature, other reporters had already covered issues about evacuation of nationals, social distance education, the COVID-19 effect on mental health, and so on. The pandemic in Taiwan happened a year after the outbreak of COVID-19.
We noticed a post on Facebook from a doctor who works in a public hospital in Taipei and realized that those government officials keep saying that we have enough beds for COVID patients but the truth was that those medical workers in the frontline faced shortage of manpower and facility. The worst were overcrowded with patients and the doctors faced the tough decision of which patient should stay first. Some of them had to sign the DNR which means Do-not-resuscitate order. The ventilator was not enough. A lot of people didn't get a chance to say goodbye to their loved ones.
Since Taiwan never formulated an ethical recommendation for such an extreme condition, we believed it was the time to start the discussion and try to convey the struggles of the frontline workers as well as the psychological consequences on the medical staff, patients and their family members – try to discover whether there are ways to try and ease the damage.
LULU: This issue of whether to resuscitate patients is highly technical and controversial, I was hoping if you could help me understand a bit of how you prepared the reporting and get yourself into a neutral mindset before reporting the story.
TSAO FU-NIEN: Because at first we just saw a few posts about doctors who faced the ethical dilemma in the frontline, therefore, I think the crucial part of this issue is to make clear whether it was a special case or had already become a widespread phenomena, and was it true that the medical resources were limited.
We approached medical staff who post similar stories on social media like Facebook and so on. Some interviewees introduced other healthcare workers to us so we got the bigger picture about what was going on in those public and private hospitals. Some interviewees provided us more details and data, and specific interactions in situations and to help us make the article reliable. Aside from the opinions of the frontline medical workers, we also interviewed medical associations about how to make ethical judgments while facing extreme medical conditions. We also consulted the Italian doctor who faced the similar ethical dilemma at the beginning of the outbreak. We also gave Taiwan advice based on Italy's previous experience.
LULU: For Lee Wai Kwan, I have a similar question for you, the shattering of Apple Daily was really emotional – not only for the staff there but also for many people in the city – can you tell us what it was like for preparing the reporting on the frontlines that night and how did you prepare your mindset?
LEE WAI KWAN: I think it's quite hard to maintain the balance because the shutting down of Apple Daily is very terrifying – not only for the staff but for reporters all over Hong Kong and also the readers. We bear in mind that we are documenting a full iconic paper which has its good and has its bad too. It is also quite important to control our emotions because people who suffered are our friends in the field or former colleagues, our journalism teachers, and university classmates. During our work, we have to remind ourselves to keep a fair distance but also a heart that can feel how they were processing the whole incident. That reminds me of how my editor believed in reporting. It is in Chinese but the meaning is when you interfere, you must be passionate and sensitive; but when you write, you have to be calm.
I can have some sharing about how in the frontline, in the building, there are some who are supporting the media who are holding slogans and some of them shouts thank you to the staff. I saw the staff, from faraway, shaking their phones with the flash lighting in response to the public. I also went to the newspaper store in Mongkok and many people waited for the last newspapers until dawn. It's really a beautiful and sad scene simultaneously.
LULU: In the process of writing or constructing the narrative, how did you and your editors arrive at the decision to document Apple Daily's last night? How did you construct the narrative for your story?
LEE WAI KWAN: As you know, the signals of shutting down Apple Daily happened long ago. I think from the start of August 2020. At that time, we already published an article interviewing several reporters of Hong Kong Apple Daily and also Taiwan Apple Daily soon after the police arrested Jimmy Lai and also other senior staff of Apple Daily. We have been preparing for the news updates, especially aware of the financial condition of Apple Daily. Because once they have financial prices, then we know that the media is going to shut down soon.
Around 2021 April, lots of rumors start around that time. Officially, Next Digital had their staff meeting in May declaring that they will not shut down their funds. But we're hearing other news from Apple Daily reporters so we started planning our article and we invited the staff and the former staff to record their memory of Apple Daily.
By the time we already decided to prepare feature writing for Apple Daily's last night, it is different from before obviously. It is important timing to capture how the staff think about the real closure and employment for tomorrow; how they react and how they worked for the last newspaper under such pressure and such a historical moment; moreover, how will the public respond.
At that time, how we construct the article, we believe it is more than the reporters. The thing is more than the reporters. We started to find Apple Daily's readers and also the newspaper sellers. The shutting down of the media not only affects the staff but also the readers because for 26 years, I think, the newspaper did shape how Hong Kong people perceive the society and how they think about the government policy. It is really meaningful to look at the newspaper sellers, too. Because they witnessed the media landscape throughout the years. For us, it's more value-added to construct the article in a larger circle.
LULU: I like to move on to Yuan Ye. Tell us what it was like reporting the Zhengzhou flood story. What has actually happened in a short span of time? How are you able to find the people to talk to in such a short span?
YUAN YE: I think when the news started circulating online last year, we had a discussion with our team first and decided to go to Zhengzhou as soon as possible while we still can. When we're there, we start to collect information from our personal contacts and piece together the important points and location that could add value. When we arrive, things get a lot easier because we just go to where things happen and talk to people and ask them what happened. There will be a lot of networks involved because we wanted to collect information as much as possible. I think that's how we managed to find the people in the interview.
LULU: What was it like trying to get the people to talk to you especially on matters of questionable figures for missing people?
YUAN YE: That's true. As you can see we are in mainstream media so imagine there are constraints and limits. I will say that it's more of a race against time. Much of the tension about the Zhengzhou flood was, in the first place, the subway in which hundreds of passengers were trapped in water.
By the time we arrived in the city, there were a lot of people that had been rescued. But we didn't know if they were part of the subway passengers because at that time, the train was still under water. So we went directly to the metro station where the subway was stopped. We met a woman there looking for her missing husband. We stayed there for a few days longer and tried to talk to more witnesses and see if there's more updates. We just stayed there and tried to collect information. That's basically how we found our story because the woman herself, she's a witness that there are more people missing but the government didn't count that in the official tally.
LULU: I have a question for all four of you because one thing that has emerged from all of these stories is the subjects of your interviews were all experiencing very traumatic events. What's your takeaway from dealing with such traumatic situations?
TSAO FU-NIEN: The interviewees all faced high pressure and traumatic situations. We listened to their disappointments and empowered them. In the article, we tried to come up with some ways to support and release the stress.
As a journalist, in 2021 – except for the pandemic – we also covered stories from other traumatic events. While reporting those disasters, I tried to stay calm as much as possible to avoid being affected by the extremely sad atmosphere. I always remind myself that the purpose of being here is to accurately convey the interviewees' voices, not being influenced by those emotions. All I have to say is that the reporter is also a human being. I have to admit that I have a psychological burden when immersed in those stories and some issues will remind me of some personal losses in my life at times.
Therefore, I will try to keep calm during the interview and the recording to prevent any missing details when the scene is so chaotic and emotional. After the interview, I know some reporters will start to write the articles immediately, but if possible, I will take a short break such as a long walk back to the hotel or the train station. During that time, I will let myself space out – slightly detach from the emotions and pressure from the theme – and recall the content that impressed me most and set up the draft. As for me, setting up an emotional breakpoint helps me be more rational and maintain my role as a journalist. Furthermore, my company also provides psychological counseling resources for every employee.
LEE WAI KWAN: I think it's always important to do follow-up interviews because in my experience of reporting, the situation of the reporters of Apple Daily, I think you need some time to let things happen. Maybe, let the pain heal or not to be healed. Then you get a bigger picture of how people live in such a traumatic experience.
We had a follow-up interview after one year of shutting down Apple Daily and we interviewed several former Apple Daily reporters. Some of them were in the few years before and some of them were not. They told us that the feelings come back in May and June. Although it's already a year passed but they still tell us that the feelings came back, I think the pain is real and it continues no matter if they got a new job or a new life.
The cases of their former colleagues are still ongoing. Some of their colleagues left Hong Kong and they can't see each other anymore. In the experience, it just reminds me that the trauma not only exists in a most crucial time but maybe throughout their lifetime. As a reporter, follow-up interviews are quite important to get a bigger picture.
MARGHERITA: My takeaway was that, in that situation, there was a common trauma of the country collapsing to the Taliban but the way people experienced it varied immensely. There are people who made it on planes out of the country – so the trauma of leaving your homeland and worry that you got to start again somewhere else; people who were not able to leave the country – the trauma of still trying to leave and surviving. There was a great uncertainty. People did not know how the Taliban were going to behave to those who were left behind especially those who had close ties with foreigners.
There was a trauma of people trying to leave and they were caught in terrible acts of violence. I spoke to one woman, in a desperate attempt to leave the country, rushed to the airport and there were gunshots fired and her mother was killed in front of her, in front of the airport. There are also ISIS bombings outside of the airport so people experience different kinds of trauma. I would add that the trauma for Afghanistan is not over yet.
I've been there many times since the Taliban took over and for women, it's a constant trauma, especially for young women who used to go to school and had dreams of their future. Now, they can't go to school. Everyday they're stuck at home. That's terribly painful.
There's a huge hunger crisis. There's an economic crisis in Afghanistan. The suffering hasn't ended yet, some things will last longer than what we thought they're gonna be. Had not the Taliban retaliated on such a broad scale as what we expected. But there's been other painful developments especially for women and poverty.
YUAN YE: Same goes in Zhengzhou. It's the aftermath of the disaster. Many people lost their loved ones. I think it's clear that we need to let people process their grief. Like what Margherita had shared, there's a common trauma in all those people, you can't just walk on the street and not feel the people who mourn the dead ones in the subway. They have shared a common trauma.
As a reporter, you have to respect the people who lost their loved ones and you have to be patient because they all need time to process their grief. When we were there as reporters, we were also people, we were also human beings. It's always better to know that you are not alone. You can talk and share with the reporters. Their experience can lead you up to a certain degree.
LULU: Were there any interview techniques or specific lessons you can share with other reporters on how to conduct such interviews?
YUAN YE: I think when a disaster happens, the most important thing that matters is time. We have to move fast and talk to people we are able to find as much as possible. It's very important for me to write down the key notes whether it's on my notepad or it's on my cell phone. I write keynotes of, not just the important information, but also the environment, the people – how they look and how their voices were like or how their faces were like. Just to take note of that information because otherwise, you can easily forget the key points when you leave.
MARGHERITA: If I could say something, interviews are very triggering for people who have had traumatic experiences even if the traumatic experience doesn't happen at that moment. When you ask about it, it's very common that people will burst into tears when those interviews are happening. I think it's absolutely okay. We should show empathy in that moment. You can take off your journalist hat and behave like a human in front of a human who experienced suffering. In that moment when they're also letting their guard down, I think it's okay to embrace that and show empathy and maybe pause your reporting for a few minutes.
LULU: It's almost like you're three different people. There's a person on-site to soak up everything and experience everything, and there's a person who puts on the reporter hat later and puts these things to perspective and crafts the narrative – put distance between yourself and the subject. How do you balance all these roles?
MARGHERITA: When you interview someone, they have to know why you're interviewing them. Often in situations of national disasters or maybe something desperate that may lead to an immediate help. I think you have to be very clear of why you are talking to them.
You ereport what you see but in the moment of suffering, I think, you take a short break and then you go back to reporting. I think it becomes natural as we speak to people, it doesn't require any particular technique, you just go with the flow. If you feel like someone needs to collect themselves then give them that moment, give them a comforting word, and then go back to reporting. That often makes stories even better. But of course, we don't want to be in situations where we exploit people's suffering for stories. I think it's about being sensible and having sensitivity towards people who have suffered a lot.
There's always a situation for reporters where, for example, a woman who has lost everything. If it's all up to me, I'd give them my wallet, all the nice fundraising. But I think you have to be strict about that. You can't blur the lines between reporting and aid. Yeah, you could actually be showing empathy but you have to be clear with people of why you are talking to them. As tempting as it is to provide material support for people, you have to be careful about doing that. Many organizations, like mine, don't allow that for example. Bringing attention to their plight can help them in other ways. That's what we experience over and over again where we try to write about someone and other people who want to help them and we connect them together. There's a way of helping them which doesn't necessarily complicate your relationship between the reporter and the person being interviewed.
LULU: When I read your stories, most of them are with other reporters. Do you have any tips to share in terms of how to collaborate with other colleagues in the newsroom?
MARGHERITA: We do it in different ways. But there are types of persons who are more in charge than the others, helping to direct what kind of reporting we need. We all do reporting but it's good to have one person, whether it's an editor or another reporter, who knows what they're getting on and what else they need so you have a clear division of labor. You want to compliment each other's reporting, we don't want to be doing the same work.
YUAN YE: I think likewise – complimenting each other's work is very important. You have to know that it's not your own work, it's teamwork. Your colleagues are very important to support you.
When we were reporting on the Zhengzhou floods, while we were out there in the flood, we had reporters on desk doing research and collecting materials. We have editors to help put things in perspective. Each of our work is very important. Communication is necessary to ensure that teamwork is great.
LULU: As a final question for all of you, what do you hope public readers will take away after reading your stories? What do you hope to evoke in readers?
TSAO FU-NIEN: I have discussed this question with my other co-worker, Delun, and her message is that we can't find a standard answer for life and death issues so we try to get various and diverse perspectives to the readers. They can think about the issue together and have their own opinion about how we can improve the distribution of sources to prevent such tragedy.
As for me, I actually felt very confident when the SOPA award was announced. The story was based on so many people's families that suffered from trauma. We thank you for your recognition that this issue has been seen again. We hope the public reads it and won't let the history repeat itself.
LEE WAI KWAN: I think the complicated thing is that we got the news that we won the award during a conversation with an Apple Daily reporter in a follow-up interview. She just got a new job and she didn't forget the pain. She just burst into tears after we met and then we got the news that we got the award.
I believe the meaning of the story is to document the first response of the reporter in such a political trauma. Most of them told us that their first reaction when they knew that their company is going to shut down, their first reaction is to write, to shoot, and to publish. Actually, Apple Daily is the media that is good at covering breaking news. They can't participate in the award anymore and that's what I'm talking about when I'm thinking about the meaning of us winning the award. It's a really complicated feeling. But again, I think, it's not only about us but about the media landscape changing in Hong Kong. We have to believe that documentary in such an historical moment is important. If we are to believe that these records will lead to more attention and more thinking in this age of turmoil in Hong Kong, I think it will be the influence of the stories to the readers.
YUAN YE: I think when a disaster happens, it's for the people. Sometimes, I ask myself if it is really good to ask people traumatic memories, or to ask people how they lost their loved ones, or what things were like when they were going through difficult times.
I think my experience reporting about the Zhengzhou floods taught me something about the value of documenting important things. As an individual, we have traumatic times and difficult times. But it carries a lot of value when it gets documented and it is brought into a larger perspective and social context.
MARGHERITA: My main takeaway is that breaking news is at the beginning of the story. While it draws our attention, whatever that is happening – for example, in Afghanistan – still deserves our attention. Afghans whether they meant to leave the country or stay, it deserves our attention and our help.
Breaking news can be a way to broaden interest in whatever's happening. We did that. That was the beginning. We've been covering Afghanistan years before that but we carry on talking about Afghanistan after the takeover. Of course, it's hard to be optimistic when something like this happens so on a personal level, it's kind of a reality check. It makes it harder for me – or the people who witnessed what's happening in Afghanistan – to take anything for granted. We know so many Afghans who grew up with expectations of living in democracy: they could stay, they could go to work. All that's gone. It shows us how fragile and how we take for granted basic things in our lives. It's a reality check.
SUPPORTED BY