Media Insiders Series: Covering Tech in Greater China | September 7, 2022 – 11AM HKT
Watch the full Panel Discussion ⬇️
The winners and finalists of the SOPA 2022 Editorial Awards on Tech in China took us inside the showdown between Jack Ma and Xi Jinping; the explosive growth of a global Chinese social media juggernaut; and the US-China fight over semiconductors. As Xi's China appeared to grow more insular even before the pandemic, the journalists managed to produce deeply sourced reports that give us a look under the hood of some of the most important companies in the world and how they got tangled up in politics—both domestic and international.
Learn how the journalists did it and what they see in the turbulent future of the Chinese tech industry in the second installment of The Society of Publishers in Asia's #MediaInsiders: Covering Tech in Greater China.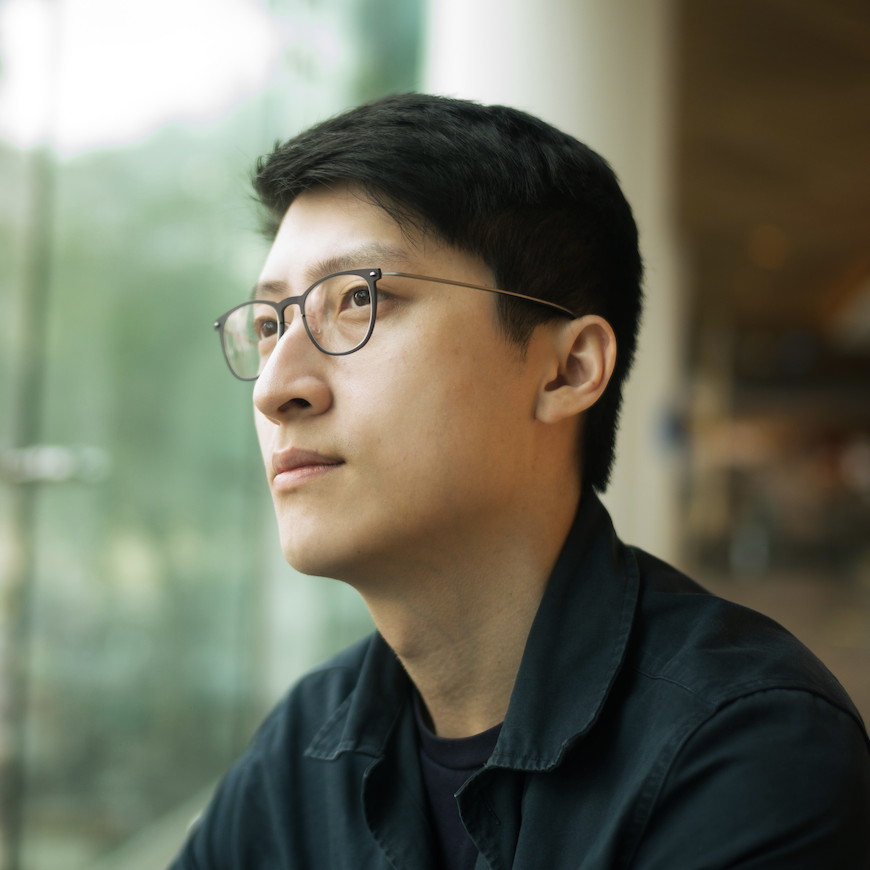 Media Insiders Series – Tech Coverage in China was moderated by Alan Wong.
Alan is the Asia-Pacific Managing Editor at VICE World News. He focuses on China, Hong Kong, and Taiwan issues and manages journalists in ten countries to cover the world's most populous region. He was previously an editor at the South China Morning Post and the New York Times.
Panelists include Keith Zhai from The Wall Street Journal, Zheping Huang from Bloomberg, and Cheng Ting-Fang from Nikkei Asia.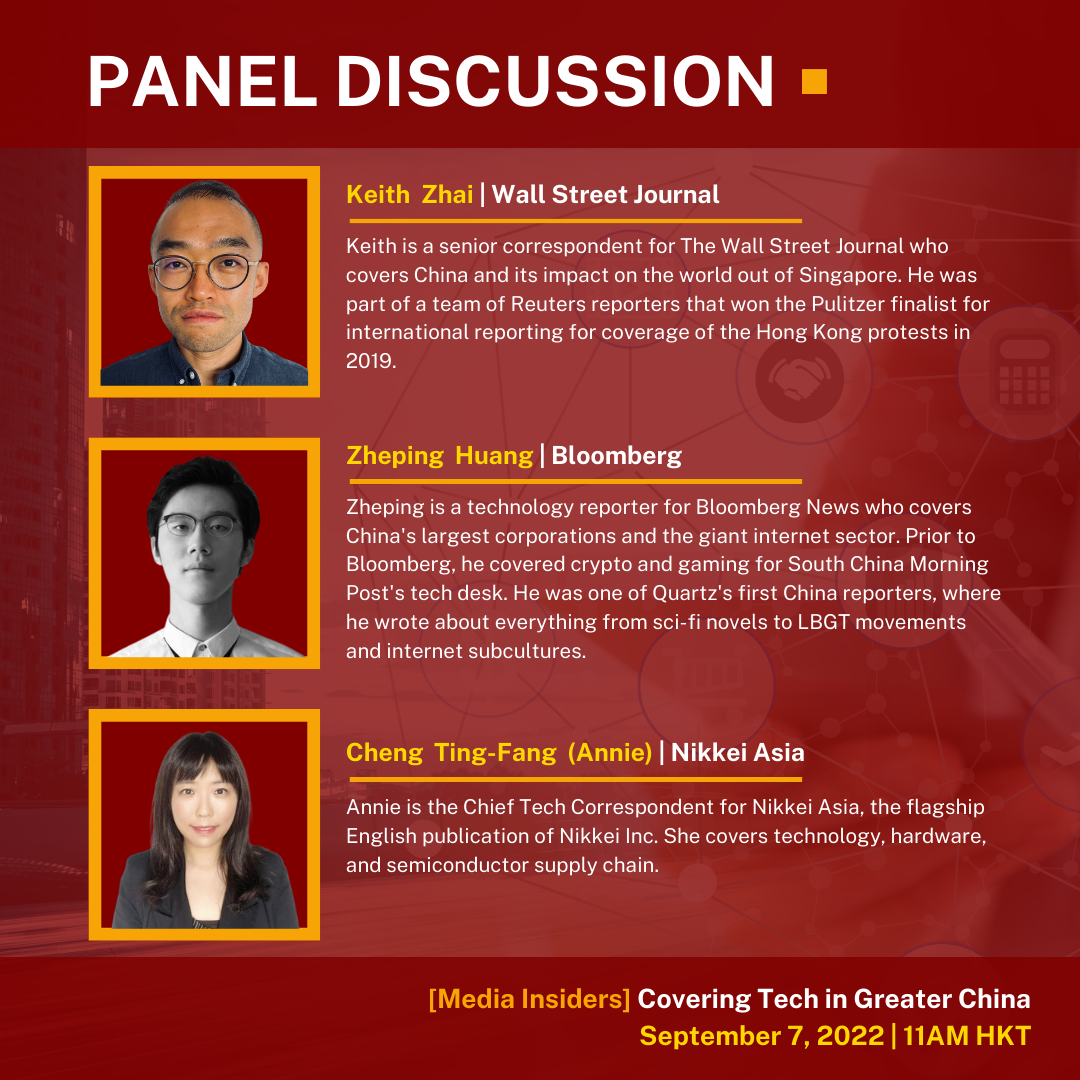 HERE ARE THE WINNING AND FINALIST ARTICLES FROM THE SOPA 2022 AWARDS
🏆 The Scoop Award (獨家新聞獎) Global/Regional (combined)
🏅 Award for Excellence | The Wall Street Journal, Inside China's Tech Crackdown

🏆 Excellence in Audio Reporting (卓越音頻報道獎) Global
🏅 Honorable Mention | Bloomberg News, Foundering: The TikTok Story

🏆 Excellence in Technology Reporting (卓越科技報道獎) Global
🏅 Finalist | Nikkei Asia, Chips In The Supply Chain
PANEL DISCUSSION TRANSCRIPT
KEITH: First of all, it's not a story I did by myself. It's a team effort with some of my colleagues including Lingling and Jing. The whole story spanned like months and we talked to different people. It's not easy to report about China's most powerful people.
In this particular case, the good thing for Jack is that he has this certain charisma and he has lots of friends. He's also a big brother type to many people and he enjoys being circulated by all of his friends and all of his people. He enjoys a lot of this type of brotherhood. In that case, it is hard in many senses, but it's not that hard to find people who have known him for many years or interacted with him on different occasions, just because of the nature of him – he's such a sociable person.
I do believe if the main character is another person or another Chinese main entrepreneur, I think the challenge might be much tougher.
ALAN: How about the other parts of the equation? How did you get the story from the other side of the coin?
KEITH: Thankfully, it's Jack. His company, Alibaba, is probably the most well-known in China. Over the 20 years since the company was just started as an e-commerce company back in 199, the company has had all kinds of interactions with different levels of Chinese officials in different sectors; not just in one province, it's across different provinces, different territories over the years. There have been lots of dealings between Chinese officials and Alibaba. Because of the nature of this business conglomerate, touching every single aspect of China makes the situation easier. Also because the size of the company, and the broad of the company in the past x years have been so glorious. To an extent, they became too big and too ambitious, to a point that lots of officials were not happy about how the company went with it. In a sense, all these factors made it easier to talk to officials because they have something to say about their company.
ALAN: How has Jack Ma's reversal fortune changed the technology sector in China?
KEITH: Most of the people in the internet sector, at least the founders and all the senior people in the company learned this lesson in a very painful way. Not only Alibaba got affected but all the other platforms. It's really about this sector as a whole. The way Beijing did this in higher crackdown is actually for them, to Beijing or to the officials in Beijing, this is actually quite smart and effective to their perspective. Largely to Beijing they believe that they are well because they effectively made the internet firms – once they can operate beyond the laws to a certain extent – now become the puppies to the government.
There's a saying in Chinese that we call, "Kill the chicken to stir the monkey." It refers to making an example out of someone in order to scare others. What Beijing did, if you think about it, is to kill the monkey and to scare the chicken. Making an example not out of someone or random person but out of a very big prominent guy in order to scare the smaller potato. The lesson it taught Jack and Alibaba is actually to serve the gold for the government and to tell other players in the sector to obey and to listen. By all means, this is a fairly successful campaign or lesson that the government taught to the sector at large.
ALAN: The communist party set its all important party congress for mid-October. What should we expect to see and what does tech fit in the picture?
KEITH: I think, by now, it's fairly clear that we're gonna have a third term of President Xi Jin Ping. Tech has been a major issue in the eyes of the government in the past two years especially. I think the way Beijing sees tech has changed. Previously they see Alibaba, Tencent, all these companies as "tech" companies, but now, they see these companies as internet platforms. There are broader tech firms as well, apart from these internet platforms, that the government will continue to address on things like monopoly power or internet platforms. They want to address issues like security, personal information privacy. But at the same time, Beijing will continue to support the movement in broader tech – that means AI, healthcare technologies, and things like semiconductors.
I don't think that anyone thinks that all these crackdowns against tech will go away. The whole framework, the rules and the way internet platforms operate, that may continue to go to big challenges, that may continue to have an impact on the wellness of these companies. But that said, some of the investors have already started to make investments into other parts of the "tech" firms. In other words, they are looking to broader tech instead of the conventional definition of tech companies in China. In this case it means platform companies.
ANNIE: Semiconductors are everywhere in our lives. It's not only on our iPhones, TVs, or refrigerators, it's also in wireless earbuds, etc. Without all of these tiny semiconductors, all the electronic devices could not be functional.
Why is the world talking about TSMC? TSMC is the world's largest chip-maker. Basically, it is helping Apple, NVIDIA, QuadComm, AMD to put their designs into production. TSMC currently has the license in cutting-edge logic to production in terms of mobile processors, AI chips, GPUs, or networking processors. But I would say that not TSMC itself can cover all the areas. Samsung is the largest player in memory chips, TSMC did not make any memory chips. Intel is number one in server CPU.
What I wanted to say is that the chip supply chain is extremely long and complicated – behind TSMC, behind Samsung and Intel, there is an extremely huge network of chip-making supply ecosystems including equipment, chemical suppliers, gas suppliers. Every chip plant needs thousands of materials and chemicals to go into that in order to make it functional. Our supply chain is interconnected. We always wanted to highlight TSMC but TSMC is only one key player and we have big ecosystem support out there.
ALAN: US House Speaker Nancy Pelosi went to Taiwan in early August and made Beijing very angry. She met with Taiwan President Tsai Ing-wen but she also had lunch with the bosses of TSMC and other top Taiwanese electronic manufacturers. What should we take away from the visit vis-a-vis US-China semiconductor rivalry?
ANNIE: I think the US just wanted to lure like-minded economies to its camp – from Taiwan, from South Korea, from Japan, and others. It seems that meeting chip industry executives has become a trendy thing to do.
Previously, people expected that the US-China rivalry starting from President Trump could kind of ease once President Biden was in office. However, it seems that President Biden's administration is further closing up the loopholes and trying to cut China's access to advanced American technology. Last week, the US further asked AMD and NVIDIA to stop shipping their most premium GPUs – used in AI computing and supercomputers – to China. Not to mention, earlier, they further restricted advanced chip-making equipment shipment to China.
The US President recently signed the Chip Act. Inside the Chip Act, there are investment terms like if you are a recipient of American subsidies, you are restricted to invest and expand in advanced chip plants in China for the next ten years. Any of your new investments need to be reviewed by the US government, not only applied to US companies, it is also applied to foreign companies as well.
We are really witnessing this great decoupling right now. These efforts will definitely slow down China's tech advancement. As the old saying goes, "Keep your friends close but keep your enemies closer." If you just shut down all these access, in the long-term, you may have no clue what your competitors are doing. I'm not sure if it's a good long term strategy, after all.
ALAN: The US trade war actually made the Chinese semiconductor industry more competitive than ever. Could this move by Washington backfire?
ANNIE: Normally, when we want to drink milk, what do we do? We just go to the supermarket. We are so used to that availability. However, if one day, milk is no longer available in our country? What do we do? We have to start breeding dairy cows; we have to research what kind of grass our cattle need to eat; we have to research the production machine of those milk; the logistics, the quote to transfer the milk with good quality control. We have to learn about milk from start to end. That's totally what's going on in China.
Previously, they had full access to the best technologies in the world no matter if it's from the US, Europe, or Japan. Take Huawei, for example, before the US crackdown, Nikkei Asia did a study of why Huawei could rise so quickly. One of the reasons is because Huawei used all kinds of the best components of suppliers globally that Apple also used. Huawei integrated those components successfully – from chips to lenses, from image sensors to display. This collaboration has been going around for so many decades, however now their access is cut or restricted. All the Chinese companies are aware of that risk. There is now a campaign to use local or at least non-US suppliers to reduce the risk of cutting off due to geopolitics someday. It brings a lot of opportunities to small suppliers or start-ups or companies that you never heard or never remembered their names. They now get the opportunity because of the fear that maybe I could get cut off.
We also did a study here and found that Huawei invests very heavily in many material, equipment, and chip developers and design tool software companies. In 2019, it only took a stake in about 5% semiconductor companies; but after the crackdown in 2021, it made investment in 32% of chip-related companies. The US crackdown is helping China to discover its vulnerabilities. However, is it easy to patch all those holes? Not at all. It will take a really long time but we can see that this ecosystem is growing.
ZHEPING: Bloomberg has a tech podcast series called Foundering and each season, we try to profile a company and a founder who went big but ran into big trouble. For Season 1, we talk about WeWork. For the latest season, we talked about Amazon's Jeff Bezos. For Season 2, we decided to focus on TikTok.
It all started when my top boss started to ask me, "Hey, why do teenage kids spend tons of hours per day on an app called TikTok watching cat videos or skating tutorials?" That's when TikTok caught our attention among the global news rim. It was also our thinking that some time in 2020, when the Trump administration turned their eyes on TikTok because they tried to propose a ban for TikTok to US-stake partners, they decided it concerns national security risk because it's a Chinese company. It all, sort of, added together. Our reporters went to Hong Kong, New York, San Francisco, and Seattle and did the reporting and talked to newsmakers and stakeholders in TikTok.
It's a 6-part series. It started from when TikTok was a lip syncing app all the way to how TikTok hooks American teens eyeballs. Then it's an app that is a so-called attention economy where top influencers can earn hundreds of millions of dollars a year through advertising deals with big brands like McDonalds, Walmart, and other marketers. Then all the way to the sum of 2020 when TikTok rendering the cause of the Washington-Beijing drama.
ALAN: What does TikTok's global success mean for China? Is there a lesson that Chinese tech companies can learn from the pushback that TikTok has been receiving in the US after it went viral?
ZHEPING: ByteDance was the new generation of tech giants that's rising in China without being backed by Tencent and Alibaba which belongs to the first generation of tech giants. It's a fascinating case study of how a Chinese company can tap globally popular sources. Tencent wanted it and Alibaba wanted it but they kind of failed. Even if you look at today's Chinese-generated internet apps that are popular globally, it's among the few that's being successful.
There are a lot of lessons to learn:
◼️ How to beat a global company when the working culture is all focused on 9-6, the very toxic working hours, and the employees in Europe or in the States, they don't necessarily get used to that.
◼️ How to deal with the data management or data privacy issues by installing internal firewalls. Train your Chinese operations and non-Chinese operations.
◼️ And also internal stuff like branding, message to the public, as well as PC regulators. The China tech world is watching, front and back.
ALAN: You mentioned the Chinese fashion company called Shein. Recently it had a pop-up event in the US, it went crazy. A lot of people know that Shein is a Chinese company. What can Shein learn from TikTok?
ZHEPING: Actually, not a lot of people know, especially if you talk to average US consumers. I don't think they know or they care. From the company's standpoint or POV, they are not trying to hide it, they're not trying to publicize about their Chinese origin either. I think that's exactly the lesson they learned from TikTok. After Tiktok, companies like Tencent started to try to do risk management from day one before it goes into any trouble.
KEITH: It's a very tough question and it's a very big challenge to a lot of reporters these days. I'm Chinese myself and I have a lot of friends in China, but constantly I feel like I'm losing touch from the ground. What I've been doing, I use – you can't get rid of – WeChat. It's the most important social media tool to connect yourself to any other Chinese person. I increasingly use a lot of Soyeon and Weibo – both of them are below my age group. I've been using a lot of those just trying to get the sentiment from real people.
I feel the problem for a lot of reporters including myself is that, in most cases, we talk amongst ourselves. We talk to people with similar mindsets. That's why people make wrong predictions against Trump or Brexit. I want to find out how ordinary Chinese, especially younger people, feel about this particular government or society. I try to use those platforms to observe and listen to the alternative as well.
Another benefit, probably, for being outside China these days especially in Singapore, there are a lot of Chinese who have left mainland China, left Hong Kong, and now they moved to Singapore. They are like us that thirst for information, the thirst to know what's going on in their homeland. They don't have that much connection like the way they did back in China. I just took that benefit for being a Chinese reporter that knows some parts of China and watches China more closely probably than some of them.
In my personal approach, I try both. On one hand, you still have to get in touch with the roots back in China, at the same time, you always have to expand like the increasingly broader community of business leads and etcetera overseas.
ANNIE: I totally agree with Keith that covering China outside China is extremely challenging. Because previously, we could still make trips to China to attend a lot of exhibitions in the industry fair, meet more people, and at least get a sense of what's really going on there. Right now we can only rely on the sources we built a long time ago and also the announcements, and also getting in touch with them from time to time as well.
Like what I said at the beginning of the conversation, because covering supply chains are all very interconnected and a lot of Taiwanese companies like US companies, Singapore companies, Japan companies – all have a lot of business with China. Maybe it's something that we have advantage of because all the supply chains are interconnected. You need so many components to build one product.
I would say, you have to build relations with the industries you cover, maybe it's not always about asking numbers or market moving things when you need them. Let them know that you care about them and that you want to know how the industry really operates. However, it's growingly challenging because of China's zero-COVID policy and all the political situations happening right now.
ZHEPING: I totally agree with what Annie and Keith just said. I think it boils down to two things: a) try to leverage your existing networks to all the social media tools; and, b) talking to people in real life which is always better than talking to people on WeChat.
I have an interesting anecdote about how powerful WeChat is. Yesterday I was chatting to someone on WeChat, it's a private message between the two of us. We talked about some companies in that particular industry. Then I scanned on my WeChat moments, it's like your Facebook feed where your friends post their updates, after we had that one on one chat – WeChat Moments started to give me relevant posts about that particular company we talked about and the industry we talked about. I almost forgot I had someone in that company before I started my conversation with my source. It's all AI and algorithms that read us today.
KEITH: I think building completely new sources within China is very hard. Especially in my case. We talk to Chinese officials and the trust requires a lot of face time. I do think, if in the future we can make it happen, like Xi Jin Ping goes somewhere in the future, maybe you can meet officials, view new connections from the trip.
At least in my case, it's really hard to build new contacts in China. The benefit of being outside, the situation out home, more people came out of China. These people used to be the top gear, the elite of Chinese. Those people you wouldn't imagine to have day to day conversations; those people you wouldn't imagine have dim sum together in the morning because they will be busy and occupied if they were in China. But if they come out of China, it's another scenario. They get less busy. Not many people know them. They'll probably, in some cases, miss their part – people surround them, everybody trying to get to them. That also helps me in viewing new connections despite, not necessarily domestically with the Chinese elite, it's also another venue to do that.
ANNIE: I think it's extremely difficult to build new sources with someone who is a stranger in China and connect with them, maybe via LinkedIn or other platforms. But maybe I can pray that someone that I know will suddenly get a job that works for Chinese companies that happened to be my beat. That can happen but they could change their job so I could lose my source again.
In recent days, it's very difficult. With COVID, even if it's someone you constantly meet and you travel there, suddenly, you cannot meet them for 2-3 years. Sometimes they don't want to say sensitive things via WeChat. Sometimes they even think that Teams is not safe but they don't want to download other apps as well. I think it's extremely difficult, but with me covering supply chain, I should dig into what kind of business relationships and with who.
ZHEPING: It's a numbers game, right? As long as you do it enough times, it will pay off eventually. It's a painful and very long process. Like in Keith's case, maybe someone he meets in Sentosa Casino will have a link to a Beijing official, who knows?
KEITH: What China is trying to tackle is the monopoly power of internet platforms – data privacy and all these issues. It's not only China who's trying to do that, we have the European government, we have the US government who's going after these major platforms as well. It's not really just a Chinese thing. It's just that the Chinese did it in a much more blunt and strict manner that differs itself from many other countries.
In other countries, there will be consultations, hearings, etc. just to make sure that everybody's on the same boat. Then, they can roll out some of these policies. In China, let's take the education crackdown for example, they pretty much finished all these policies within two to three months and then they killed that entire sector. It's just unprecedented. It never happened in any other countries. Here, we can bring the political aspect into this issue.
Previously, China was in a different stage similar to the US, UK, and whatever. That they focus a lot on the economy. Whatever you do, the core of the issue, the fundamental is still about the economy. But right now, that has changed. The core or the fundamental is not the economy anymore but it's the politics. The government as well as the government officials, when they look at these issues, they try to address these issues in a technical way. The way that China did it is not a model, it's not international, it's more of a campaign style. In a campaign style, they finish things very fast and they go through things very fast. They have a political goal for this matter.
It's not just an industry or regulatory issue, it must have a broader political move or idea to drive this regulatory change. That political goal, in many cases, is more important under this new China. That's why you can see two factors here: while the regulatory change is on the surface but the backend, the supporting theories, the framework is still political theories.
If I make a quick comparison, back in the day, in 2000 if China wanted to build a bridge, how would they build a bridge? They find contractors, they buy all the stuff, they hire workers and they're just gonna build a bridge. That's the modern way of economic thinking, that's how you do economic activities. But, if you put this in the context of campaign style, that would be different. It's like what I mentioned, back in the 1960s, how are they gonna build a bridge? Among anything else, they have to find their right enemies. Who are the enemies? Then, I need to mobilize the public and everybody in the society will say, "Let's fight against these enemies." After we fight against these enemies, people get motivated, and then they can build this bridge. This is a very typical revolutionary thinking about how they do all these campaigns, how they conduct economic activities. All of these political campaigns are behind while they are addressing all these economic activities.
In Chinese, it's "Kill two birds with one stone." It's fairly obvious in Xi Jin Ping' style, he wants this and also he wants that. He never wants one thing.
ANNIE: In semiconductors, you always look at those nanometers. Basically, the smaller the nanometer size, the more advanced the chip and the more powerful it is. You can see all those US regulations that will say, "You cannot ship that tool below 14 nanometer chips." When you read that, that means below that – seven, five, three nanometer chips – those tools cannot be shipped to China. Why is it important to make those cutting-edge chips? In the future, with so many data centers and AI emerging, we really need those high-performance computing chips so that we can easily do those complicated things and science research. Also, we're going to space chips, like satellites, in the future.
I think you previously asked me a question about which company I worry about or pay a lot of attention – I would say it's Yangtze Memory Technologies. Because this company is making flash memory chips in the Chinese city of Wuhan. It just started back in 2016. Back in 2017 and 2018, it had zero market share. But now, it has five to six percent of global market share. Currently, they only feed domestic supplies but that's something we need to monitor because there is no memory chip maker in the world who could grow five times of market share in five to six years.
ZHEPING: I won't say it's a misconception but it's a very common trap. I almost feel like, as a Chinese internet firm or as a Chinese-made internet app, I always have the original feeling of being born Chinese. Where you come from an origin that doesn't share the same values of the Western market. As that company, as that founder, as that particular smartphone app, when you try to enter Europe, to enter the States, or to enter India – the first reaction of the public or where your readers are, 'Hey, you're from China. There must be something new about you." In Trump's case, that was pretty clear what this was about: that China equals data collection, that China equals national security risk. These two get the market ban of the app which is no good to its users.
If you only talk about issues on that layer one, it doesn't help anyone. In terms of whether there's a risk, I think we should go deeper to look at what kind of data do TikTok really collect? Is it about personal data or geolocation data? In terms of censorship, what TikTok or WeChat really allow for US users? Should they allow political ads? If we discuss more concrete questions then it helps the people understand the issue.
We, as journalists, tend to simplify stuff. You need to explain something in 400 words. Whenever it's possible, we try to go one layer deeper.
KEITH: I agree with Zheping. In lots of cases, when covering media companies, I think they think less about business logic. In the case of Shein or TikTok, I think people care less about what made Shein a global company. I don't think it's because they use workers from Xinjiang that made them a big company compared to H&M or Zara. But it seems like people have less thirst or interest on how these companies became successful – which is sad and pathetic. I think, the decoupling is now from one side. To some extent, including myself, I think the media is also part of the game that drives the decoupling from getting worse. Because they're emphasizing, for instance, the narrative that these two countries, these quicker powers are decoupling or are heading towards that trend.
Every day, every morning, you wake up, you look at the media and you'll always see stories like, "Oh my god, these two countries are drifting apart." I don't think this can be fixed. The nature of media is they like to get attention, to go highlight attention to cover the fun beat. Is this fair to the companies? It's a tough question.
It's not only Chinese companies, it's all the companies they cut for this particular situation. It's not only tech companies but also commercial companies too. When things become political, it's getting more and more pathetic for us humans. I guess this is the world we're living in, maybe if we try harder, we won't have a China-Taiwan-US conflict tomorrow. Let's see.
ANNIE: Covering geopolitical and economic conflict is very interesting. Taiwan, where I live, is like a sandwich. It's like between the US and China. China always says that Taiwan is a part of China. In the US, you can see all these delegations coming over one after another and all they're talking about is that they're visiting TSMC and they want this semiconductor collaboration. It's very interesting to see how it is sandwiched between. Because we are so close to China, but on the other hand, our industry relies – the flagship industry in Taiwan is the semiconductor industry – on so many US technologies.
Definitely no executives in Taiwan want to violate any export regulations and make the US not happy. At the other end, a lot of supply chain executives have manufacturing plants in China. When Nancy Pelosi made the visit to Taiwan, the other day or the day after, all these Chinese plants in China suddenly got a notice that any of the shipping from Taiwan to China could not be made in Taiwan. There's really a lot of tension and a lot of nuances that could happen – not only to us that's covering the industry, but all the other industries that go in between.
ANNIE: A little bit technical but let me explain briefly about the SMIC part. I think there is a cryptocurrency computing chip that's spotted by a consultancy and that's actually made by 7 nanometer grade. They realized, is it SMIC who got blacklisted by the US that can produce such cutting-edge chips? Because they supposed that they could not do that. What I'm trying to say is that what they're called is not mass production but they made so many of those kinds in different machines. Just like what I said, SMIC won't just sit there and shut down their plants. They will look for all kinds of alternatives. They will look into all kinds of machines as well. They could probably make those 7 nanometer grades but maybe the production quality is still very low. But, they could build those types of things. So I won't say that it's already in mass production right now.
KEITH: I suppose the question was made because yesterday, there was a deep reforming commission and they had this meeting. I think that it's interesting but it's not something super new. Over the years, they have been using this as one of the keys to address IP challenges or AI or basically all the hard core technologies. It's a theory. It's hard to know whether this is even possible. If you look at the early 30 decades of the communist party, it doesn't seem like this whole thing is possible. Maybe they can give it up to nuclear weapons etcetera but it doesn't mean that this theory will apply to all the other sectors like semiconductor.
It is true that over the years, we see more and more of these industries that are adapting this kind of state resources to drive the system to scale up. But so far, I think this is still early stage, I don't see anything being tested.
I don't expect that we'll hear a lot about specific policy changes in the coming months. If there's anything, I think we still have to wait a bit of time.
SUPPORTED BY