Media Insiders Series: Reporting Women's Issues in Asia Webinar | August 16, 2023 – 2PM HKT
Watch the full Panel Discussion ⬇️
The Society of Publishers in Asia continues to recognize journalistic excellence in stories that explore the lives of women, the challenges they face in issues ranging from politics, women's rights and gender-based violence, and their economic rise and success in leadership in the workplace.
In the first installment of #MediaInsiders2023, three winners of the recently concluded SOPA Awards Women's Reporting category will discuss their coverage of women's health and abortion rights in Asia, the confusion over the definition of sexual consent in China and its link to violence against women, and the challenges of reporting women's issues in Asia.

Media Insiders: Women's Reporting Webinar was moderated by Hong Kong Baptist University – Senior Lecturer in Journalism, Robin Ewing.
Robin is a journalism educator for nearly two decades and the Director of HKBU's master's in International Journalism Studies program. She has served as a SOPA Awards judge for the last 11 years and helped organize the previous HKBU-SOPA Award Winners Forum.

Panelists include Nikkei Asia's Tokyo Correspondent Alice French, Nikkei Asia's India Correspondent Kiran Sharma, and The World of Chinese Culture Editor Siyi Chu.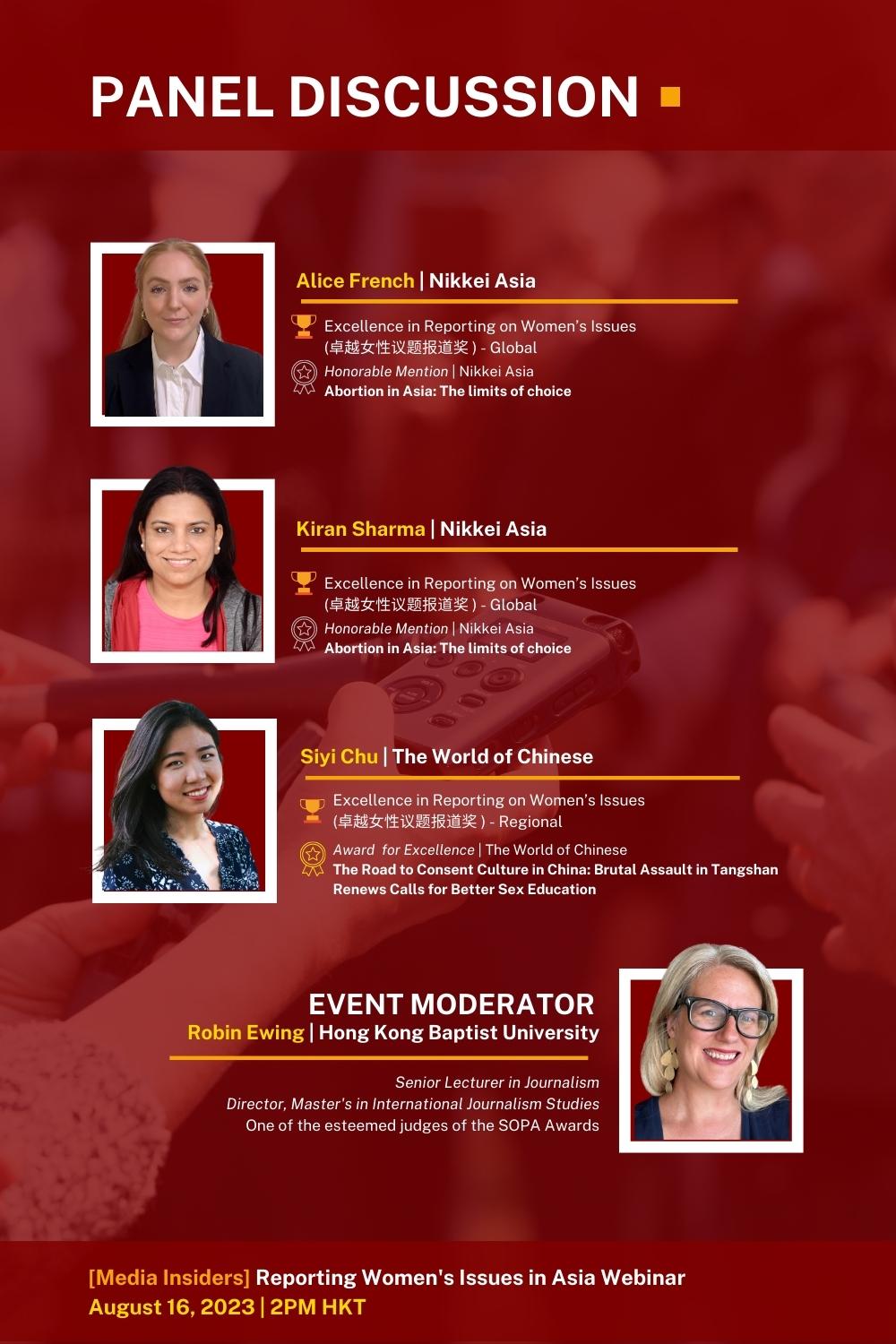 GET TO KNOW THE PANELISTS
ALICE FRENCH, Nikkei Asia
Alice has been working for Nikkei Asia since October 2021 as a reporter, deputy editor and podcaster. Based in Tokyo, her reporting focuses on Japanese politics, society and culture, with a particular interest in gender and human rights. Prior to joining Nikkei, Alice worked as a coordinator for international relations at Yamagata Prefectural Office in northern Japan, after graduating with a Bachelor's in Japanese Studies from the University of Cambridge, UK.
KIRAN SHARMA, Nikkei Asia
Kiran is India correspondent for Nikkei Asia and covers a range of topics such as politics, economy, foreign affairs and social issues, often writing in-depth analytical pieces. She has over two decades of experience in mainstream journalism, having started her career with the Indian news agency Press Trust of India, where she held the position of news editor.
SIYI CHU, The World of Chinese
Siyi is the Culture Editor at The World of Chinese, an English-language magazine dedicated to in-depth reporting on Chinese society, where she writes human-centered stories about arts, culture, and social issues. Her recent interests have included dialect preservation, sex education, and small-time goddesses.
HERE ARE THE WINNING AND FINALIST ARTICLES FROM THE SOPA 2023 AWARDS
🏆 Excellence in Reporting on Women's Issues (卓越女性议题报道奖 ) – Global
🏅 Honorable Mention | Nikkei Asia, – Abortion in Asia: The limits of choice
📥 PDF HERE
🏆 Excellence in Reporting on Women's Issues (卓越女性议题报道奖 ) – Regional
🏅 Award for Excellence | The World of Chinese – The Road to Consent Culture in China: Brutal Assault in Tangshan Renews Calls for Better Sex Education
📥 PDF HERE
PANEL DISCUSSION TRANSCRIPT
To follow.