Media Insiders: Tackling News Fatigue | August 24, 2022 – 3PM HKT
Watch the full Panel Discussion ⬇️
As publishers continue to focus on growing their subscriber base, understanding which formats are best at engaging audiences is critical to their success.
This August, The Society of Publishers in Asia take a comprehensive look at the different formats publishers are investing in today to further engage audiences and increase the number of people paying for their content.
The event was moderated by Adrian Lee. Adrian has been a SOPA board member since 2020.
As SVP of Audience Growth at the South China Morning Post (SCMP), Adrian focuses on market and audience development across Asia and broader global markets to further drive its international readership and is responsible for raising SCMP's brand awareness and increasing traffic and loyalty to SCMP's digital platforms. He holds revenue responsibility for both the digital subscription and events businesses.
Panelists include Andrew Barden, Tom Wright, and Elena Corchero.
The panel discussion revolved around the ways that newsrooms, audience development and marketing teams are packaging content to entice audiences to keep coming back to their platforms.  Our three expert panelists shared best practices regarding legacy formats that are still extremely effective (such as podcasts and newsletters), plus thoughts and case studies regarding the most cutting-edge of innovations shaping the future of news experiences such as the metaverse!
PANEL DISCUSSION TRANSCRIPT
ANDREW: It's often difficult to adjust for that volatility. The numbers' probability often lie and so we're not allowed to be distracted by that. For us, it starts with purpose and Editorial vision and mapping from there. We're fortunate enough that, in Bloomberg, we have the size to be able to push in a lot of directions at the same time.
We have a dedicated team of curators – they're heavily involved in our strategy discussions, they're heavily involved in our editorial discussions, they're the integral part at the beginning of the conceptualization of the idea all the way through to the execution. We do post mortems. We look at what we've published.
The challenge I think is sticking to that editorial mission. And I say that because a lot of times you'll publish a piece of content that might do exceptionally well, go viral – for a lack of better term – but will lead to almost zero growth in subs. I think that's because our viewers are agnostic as to where they get a lot of breaking news from. If it's a rocket launch coming up, I don't care who's giving it to me, I'll just watch the video and I'll drop out. The question of traffic, then becomes one of trying to ignore the chase for these numbers that often aren't valuable, and taking a longer view in trying to build an audience, trying to build engagement, trying to get that authenticity. That takes a little bit of patience and it takes a lot of work with the curators to wade your way through that.
TOM: Our business model is to create great content, narrative non-fiction that we will monetize in a number of different ways. But mainly by adopting it to TV and film adaptations that come later. We obviously don't have a big company or distribution mechanism behind us. When we first sort of started out and discussed with partners – the people who own the platform – about how we want to build this business, we realized that we're gonna give away a lot of intellectual property if we do certain kinds of deals. And so, what we've done is we really decided to keep the IP ourselves and to get to the audience with the IP just being really good. That is really the real core of what we are doing.
We launched a podcast last year called Fat Leonard – which actually SOPA awarded us from the recent Asian awards – we didn't have anybody really marketing it for us. It wasn't pushed out by Apple, Spotify or anyone like that because we want to produce our own TV version of that. We're actually able to get a lot of downloads more than some competing podcasts that came out just by the quality of content. The key to that is understanding what your audience and content are.
If you have a core audience, I think that's really important to be able to get stuff out. You need the kindling that will start a fire with a little bit of content. Of course, distribution is important too. Distribution channel is important but knowing what your content is and your audience – that's really the key for us.
ELENA: I was actually brought into the team in Dow Jones – Live Team specifically to bridge that gap and to kind of invent the future of hybrid.
What happens when people have multiple choices? When people can decide: Do I go in person? Do I stay at home and enjoy it online? You kind of have to be able to create an incredibly engaging experience depending where people decide it to be. It has been quite a challenging transition but we have managed to create exciting solutions, which include virtual reality, digital tourings, you name it.
I think one of the differences that we have been talking about in terms of content creation is that life journalism and events, it's more about facilitating an environment of discovery and participation. It's not one way. It's to feel present, to feel engaged, to feel you're learning, you're discovering, and also making meaningful connections. It's a complete type of different task. And community building is kind of the core focus – how you build this community; how participation turns the experience into something more decentralized that is not so controlled; and, how you have truly added value. Because you want people to come back, you want that loyalty. It's more about quality than quantity or taking the numbers. That's a place where we see a big difference between content creation, that is more one way, to this participatory, facilitating the environment.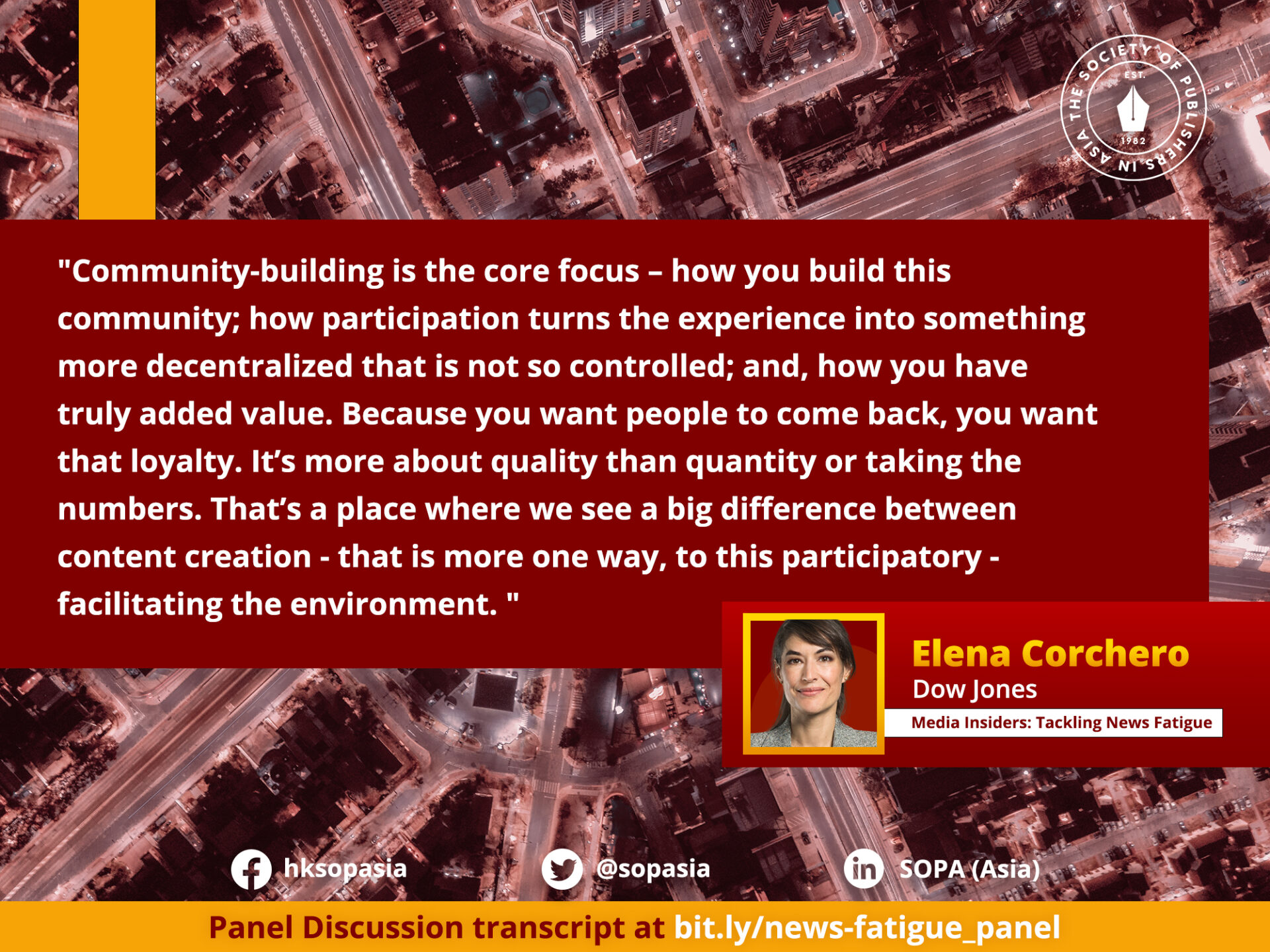 We are very lucky that there are a lot of available technologies today in most people's hands, just in a mobile phone, that allows you to have a more immersive experience. What we are exploring in life journalisms is how we move from audio video into spatial technologies, spatial audio, spatial AR, and so on. It's a very exciting time.
What is good about spatial technologies, especially in the education and knowledge transfer side, is that by being immersive, they are more intuitive; by having people being more active and more present, it's not so easy to multitask while trying to digest a million things, here you are truly present. It's a more memorable experience in a way that it has a lot of similarities to how you approach life. The marketing is different because you want to reach people in how they were at. I think that's one of the complexities of the market today.
We have a lot to kind of thank to the pandemic where, before, people were very taken averse. Somehow, during the pandemic, I believe a lot of people have lowered all those barriers and a lot of issues that technology adoption have had in the past were not about the technology being ready good enough or being affordable enough – it was social factors. I feel that barrier is almost completely gone and people are very excited to try new things and to learn.
What we have realized, for example, we have created educational materials called Iconic Memes that educates people on what is an NFT and how many industries are adopting NFTs and the utility of them, and so on. What is very interesting is, of course everybody has heard about VR – most people have tried it today and heard about NFTs, but none of these people truly understands these new technologies and possibilities and products and services or how they can impact their industries. They haven't realized all the potentials of their own business. So I kind of feel that people are finally very open to having this experience and I feel we have made them feel enlightened. It hasn't been that difficult, perhaps thanks to the tech learnings in the pandemic.
ANDREW: For starters, I think we're probably near to the point where alternative forms of media like video stopped being considered alternative forms. I think we probably knew at this point, we're all morphing sort of into one giant puddle. You can't just have a good print story anymore. We tackled a bit about giving the audience the content where they want it, but in the case of Bloomberg, we are also in the search to make the whole experience much more immersive – so is it graphics, is it photos, is it podcast, is it video? If the story is big enough, why not a live event and at least a key party to discuss the content?
It's just really being ambitious in how you want to tell that story. You always have to pick your moments when you do that but after scoops, it builds loyalty, it's authentic. The authenticity, having your audience know that if they come to you, they're gonna get more than just breaking news, they're gonna get the immersive experience, they're gonna get new ones, they're gonna be able to engage and be part of a conversation. That takes time, that's what will build your audience and that's what will make it sustainable in the long run, and it's much more monetizable. I think that's how we view it.
You need a flight control tower and it's a pain point. It's a big point of frustration at the moment – getting all of these teams speaking to each other, especially if you are dealing with a scoop or something that you're trying to firm up and run all the traps on it. But trying to figure out if there are some central points to communicate to each other. We've guilt infrastructure to try and touch on that but It's still a work in progress for all media organizations.
TOM: Our company overseas is brand new so we are building from the ground up, we don't have any massive legacy organization that's not talking to each other. We've just got tunnels of people whose working for us that are building podcast and so we are able to get the Ukraine podcast off the ground variously, we got anniversary with full of Khabul to the Taliban podcast that we're able to ,I think, that were able to do it more efficiently just because we are streamlined.
In terms of traditional versus [technological], we're in two different positions here. One is we're actually trying to promote our stuff via the media. We have a podcast that we're putting out which we are trying to promote. So I've noticed I might get a spread on The Wall Street Journal on a podcast or I might get in the CBS Evening News and it won't actually lead to much more coverage for my podcast because you're hitting old people who were watching the broadcast news in America, or people reading The Wall Street Journal on the weekend. For us, it's actually one of the ways we can promote our content is through feed swaps with podcasts. The podcast world is interesting. The podcast listeners go to other podcasts to get other recommendations for things they're listening to. So for us, feed swap is actually a lot more effective for promoting.
In terms of our own business in Project Brazen, we are trying to build a community. We really need to have a group of people, very small compared to Bloomberg or Dow Jones, that will really tune in to us over and over again because they believe in what we are doing. And so we're thinking very hard about our brand and the kind of content that we are creating – meets our brand and the expectations in every step of the way. For us, that's like we do stories that are happening now and that have great character. We just do that over and over again. For us, the medium, I don't think will matter as much as the great content. That you're gonna find your readership if you think about your readers and your audience and deliver it to them.
Our main business model is to not monetize podcasts with ad revenues. That's fine if we could cover the cost of our production but we're actually looking into adapting it. I think you can have great stories that don't necessarily give huge numbers but the market is also kind of right as well: a great tale will always find its audience.
ELENA: One of the things we did is to sit down and truly understand the possibilities of the emerging tech. I focus on the most emerging technologies that are less explored. We analyse them well and having so much choice, we came up with a manifesto we call WISE Innovation where we are focusing on our events and hybrid experiences, metaverse, and so on. We are focusing on WISE: Wellness, Immersiveness, Sustainability, and Ethics. Having these WISE Innovation mandates has helped us to narrow down our focus.
We wanna provide wellness, immersiveness, sustainability and ethics into all of these experiences and this is what we are exploring how we are using these new technologies to tackle all these four areas. And how we can even criticize what's happening, for example in terms of ethics in the metaverse, so that when we create experiences there, we are making sure that we are providing the right environments that perhaps we don't see other brands doing. We want experiences that are highly inclusive.
One thing is to create content to tell people about how the metaverse is going to change your industry. Another thing is to say that we're gonna explore this together. We're gonna build it and we're gonna show you, please join us. It is actually great to get partners involved. We are currently, right now, learning by doing.
We know that whatever content we've shared in immersive ways will depend on who is there because it's a participatory environment, it's not just one way. Creating the community in a quality we aspire to was coming first.
ANDREW: QuickTake, when we launched, was exclusive to Twitter at that time. Along the way, we've tested the things that didn't work out and tested the things that did work out. We double-down on the things that did work out. The growth has been rapid. We've pioneered a lot of formats along the way.
In the case of QuickTake, this speaks to building an audience, we wanted to be seen as a place where people will come to understand the news. We wanted to be seen as that place: where you can be informative and entertaining and not take a traditional approach. That can be very low cost. It doesn't need to be highly produced. We have the advantage of having reporters in almost every country in the world, they all have cell phones, that's about all you need at the moment. In many cases, your audience will respond better to that than if something is highly produced because it feels authentic.
The news cycle is intense, we pick our moments – where can we come in, where can we make you understand, where can we give you nuance, fun, or even quirky take – and people will come back for that. That's how we aim to distinguish ourselves. It's also monetizable. That sort of content is more monetizable because you can't easily replicate it, it does not become a commodity immediately overnight. We wanted QuickTake to help you better understand the world around you.
TOM: If you could do a story in a way that no one else is doing it, then, you will get the audience. It doesn't necessarily mean being first even. Going back to Fat Leonard, that story has been out for many, many years. It's 2015 when this guy, Leonard, was arrested. But because we were able to get a hold of him in a certain way and record him in a certain way, we were able to bring a totally different angle to it than it had been covered up until that point. That built us a community for that podcast. It's not always about being first necessarily or being exclusive, it could be analytical.
TOM: As we're saying earlier, we don't try to monetize our podcast. It's fine if we do but that is not actually our business model. But yes you're right, this is a content golden-age stroke bubble, and there's a lot of competition out there especially podcasts. The audience you write in Asia is not all that developed. We have a whole strategy for developing our podcast to TV and film compared here in Asia with lower cost and higher volume. But back in the US market, there's a lot of competition. The way I think you can break through all of that is to just do your story really, really well. If you are able to deliver a story in a way that just elevates it beyond what everyone else is doing, you will find an audience for it. That's our approach to everything we're doing.
ELENA: We're very lucky to have partners involved, especially now that we're starting AR. A lot of things will be very much, much harder to create if you are trying to create with the products that are already existing in the market. We have an approach that makes sponsorships and partnerships, that from a newsroom side, has been interesting conversations because you have to think of the ethics in the newsroom which are extremely strong in Dow Jones. We have to come up with ways of productizing these new services which are still in the experimental phase.
These kinds of sponsorships and partnerships are not interruptive. We all imagine a future where you don't have interruptive advertising but is actually fully integrated in the experience. The way these advertisements will be integrated in experience is through the stories that you tell, the limited space you have in the immersive experience where these partnerships can shine. It's still very exploratory but it's about making these sponsorships and partnerships truly integrated instead of just an add-on.
ANDREW: In the case of QuickTake, that could be partnerships with platforms. We've partnered with Twitter and it's a great success. We're partnering with outside talents. We're very open to partnerships and view it as a key to our success. We're also partnering with studios and production houses.
TOM: Our partners are the journalists we are working with – helping them finance their shows and sharing the upsides with them. That's a really exciting thing for us. Our business model is more on adaptation route. It's the partnership between content creators and Project Brazen that we're excited about.
ANDREW: I do agree there's a news fatigue. I almost think it's a news cycle fatigue over the past seven years and it's been absolutely draining to open your news feed.
The news in the US is intense, you talk about COVID, climate change, and it's been absolutely exhausting. I'm a journalist and I find myself in the morning when I turn to my phone being sort of drained before the day even gets going. I don't blame the audience. I think what we can recognize is while maybe there's news cycle fatigue, there's still a great appetite for news, and there's a great appetite for understanding your world. As news organizations, I firmly believe that COVID is still a story and climate change is still a story. But it's like, picking your moments – where are you going to add value, what story can you tell, or what character can you find that nobody else has access to or nobody else can do. And going all in on that moment. It doesn't have to be ambitious. We have a whole team dedicated to content 60 seconds or less. Some stories may end up requiring a full 40-minute digital original, others might be 30 seconds. But it's just finding what's the story, what's the moment, and so we spend a lot of time kind of parsing through the news figuring it out. We have editorial leads that will map through the Bloomberg news room and try to figure out what the newsroom is working on.
We work so closely with our analytics team. They are part of who we are and they are very good at reminding us to look at the long view, engagement, and completion rates – it's something that we look at very closely and that's a very rewarding one. What metrics are most important for growth? It depends on what your objective is and who you are. If you look at all of them as a whole and pull them together over time, It will hopefully paint some meaningful picture.
TOM: If you tackle stories of hugely high stakes you will cut through that news fatigue. People will always wanna reach you. Bloomberg and The Wall Street Journal are the two organizations that do this pretty well.
If the stakes are high and people feel like they're getting delivered exclusive information, again, you're gonna find your audience and you are not going to have news fatigue. People are smart and people know when they read stuff whether they are getting fed with a bunch of baloney or whether this is like proper analytical deeply reported work that's gonna elevate their reading experience.
Sometimes it just takes time for stories to build and people and organizations to get behind them.  
SUPPORTED BY